Conceitos de ambientes que combinam quatro palettes básicas de formas diferentes, em que o dourado é protagonista.
Examples of spatial designs that employ four basic palettes combined in different ways , in which gold is the protagonist.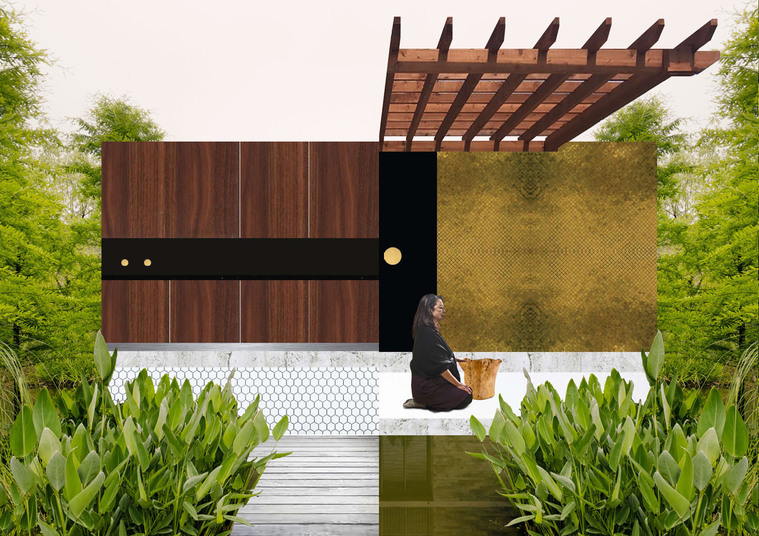 AMBIENTE 01
O PAVILHÃO DA SERENIDADE
Não há dúvida que ambientes executados com paletes brancas transmitem uma certa serenidade. Contudo, em excesso, podem tornar-se um pouco opressivos, especialmente se a nossa mente está tudo menos serena. Ao contrário das paletes brancas, cores mais quentes e ambientes naturais impedem-nos de projectar a inquietação interior no ambiente exterior. A natureza devolve-nos o sentido da complexidade - parte integrante da vida - e com ele, o sentido do equilíbrio em todas as coisas. Texturas vibrantes revertem-nos ao corpóreo e, acto contínuo, ancoram-nos.
..
The Serenity Pavillion

There is something calming about white interiors, but in excess they can be a little oppressive, specially if one´s mind is the opposite of serene. Warmer textures and the outdoors, by contrast, prevent us from projecting our internal tumult onto our surroundings. Rather, they speak of complexity - which no one's life is free of - and also about the balance in things. Warm textures remind us that we are corporeal, that we are connected, and also safe. And that is a good thing indeed.

AMBIENTE 02
O HAMMAM SUBTERRÂNEO
Nesta abordagem mais corpórea da serenidade, a visão de elegância intemporal é equilibrada pela robustez dos tectos abobadados, que enfatizam a natureza subterrânea do espaço e da sua localização - quiçá secreta - aqui rendida em quase-útero.
..
The Underground Hammam

A more corporeal version of serenity, this timelessly elegant vision is balanced by the robust sensuality of the vaulted ceilingscape, with a grounding effect that emphasizes the below-ground location and secret, womb-like containment of the human body.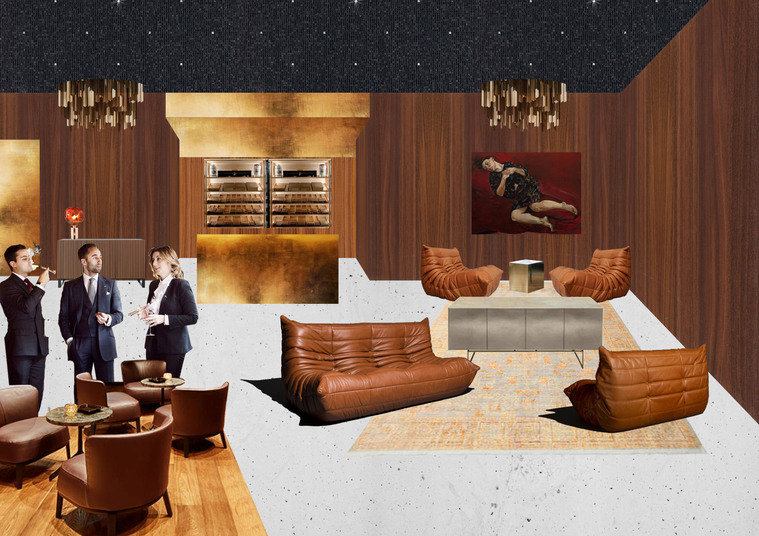 AMBIENTE 03
O FUMADOURO
Para verdadeiramente se apreciar um charuto, deve-se fumá-lo sem pressa. É uma actividade social, que convida a partilha. A palete quente, exuberante e sensual, referencia as latitudes mornas onde se cultiva o tabaco e propicia o conforto físico necessário para esta actividade. A iluminação, igualmente branda, apresenta pontos focais de interesse em meio a um ambiente difuso que relaxa a vista e a mente.
..
The Cigar Lounge

One of the most enduring social practices, smoking a cigar demands taking time to savour it. It is a slow activity, done leisurely, and best enjoyed in company. This lush and warm palette references the warm latitudes in which tobacco is grown, emphasises physical comfort and has moody lighting to induce relaxation.