A NOSSA BROCHURA
OUR BROCHURE
SOBRE O PREÇO DOS SERVIÇOS
ABOUT OUR SERVICE RATES
É comum sermos abordados por Clientes com pedidos de cotação para serviços de design e arquitectura, sem que eles tenham um orçamento pré-definido. Por esta razão, é necessário um encontro inicial para clarificar um número de factores que determinam a estrutura de preço dos serviços a prestar.
Primeiro, é necessário determinar a natureza do serviço a prestar, por exemplo construção nova ("do zero"), ampliações e remodelações ou apenas design de interiores. Construções novas têm custos e tempos de execução maiores, e inclui processos envolvendo terceiros, tais como o licenciamento da obra. Veja o gráfico para a % de alocação de custos.

Segundo, é importante determinar o nível de acabamentos desejado para a instalação. Este impacta o custo da obra e é directamente proporcional ao custo dos serviços a prestar, que é tipicamente calculado como custo base + % do custo de construção/instalação.
Terceiro, é necessário estabelecer o tempo de execução do projecto e instalação, tendo em mente que projectos prioritários/urgentes podem incorrer custos adicionais, se for necessário mobilizar tempo e recursos de outros projects para priorizar os urgentes.
Por fim, e directamente associado aos primeiros três, é o nível de complexidade do projecto, desde a logística até à coordenação de especialistas e gestão geral dos processos necessários para concluir a instalação. Por exemplo, se o projecto depende primariamente de especialistas terceirizados (iluminação, mecânica, mobiliário) ou componentes importados com prazos de entrega longos, isto pode impactar no preço final ao Cliente devido às exigências logísticas acima do normal.
More often than not, we are approached by Clients requesting a quotation for design services without a budget in mind. For this reason, an initial briefing is required in order clarify a number of factors that affect the pricing structure of the design services to be rendered.
Firstly, it is necessary to determine the nature of the service, for example new build (from scratch), alterations & additions or interior fit-out only. A new building has higher costs and longer timeframes associated with it, and includes third-party activities such as licensing (council authority submission for approval and inspections). Refer to the pie-chart for % allocation of costs.
Secondly, it is important to determine the level of finishes desired for the installation (usually referred to as specification level, or "spec" for short). This is directly proportional to the service rate applied, which is typically a baseline cost + % of the construction/installation cost.

Thirdly, it is necessary to establish the timeframe for the installation, keeping in mind that fast-track projects may carry an additional charge as they demand diverting time and resources from other projects to prioritise urgent builds/installations.
Lastly, and directly associated with the first three, is the level of complexity of the project, from logistics to specialist interfaces to overall management of the process that is required to complete the installation. For example, if the project relies heavily on outsourced specialists (lighting, mechanical, furniture) or on imported items with long-lead delivery times, this may impact the final price to the Client due to logistic demands above the norm.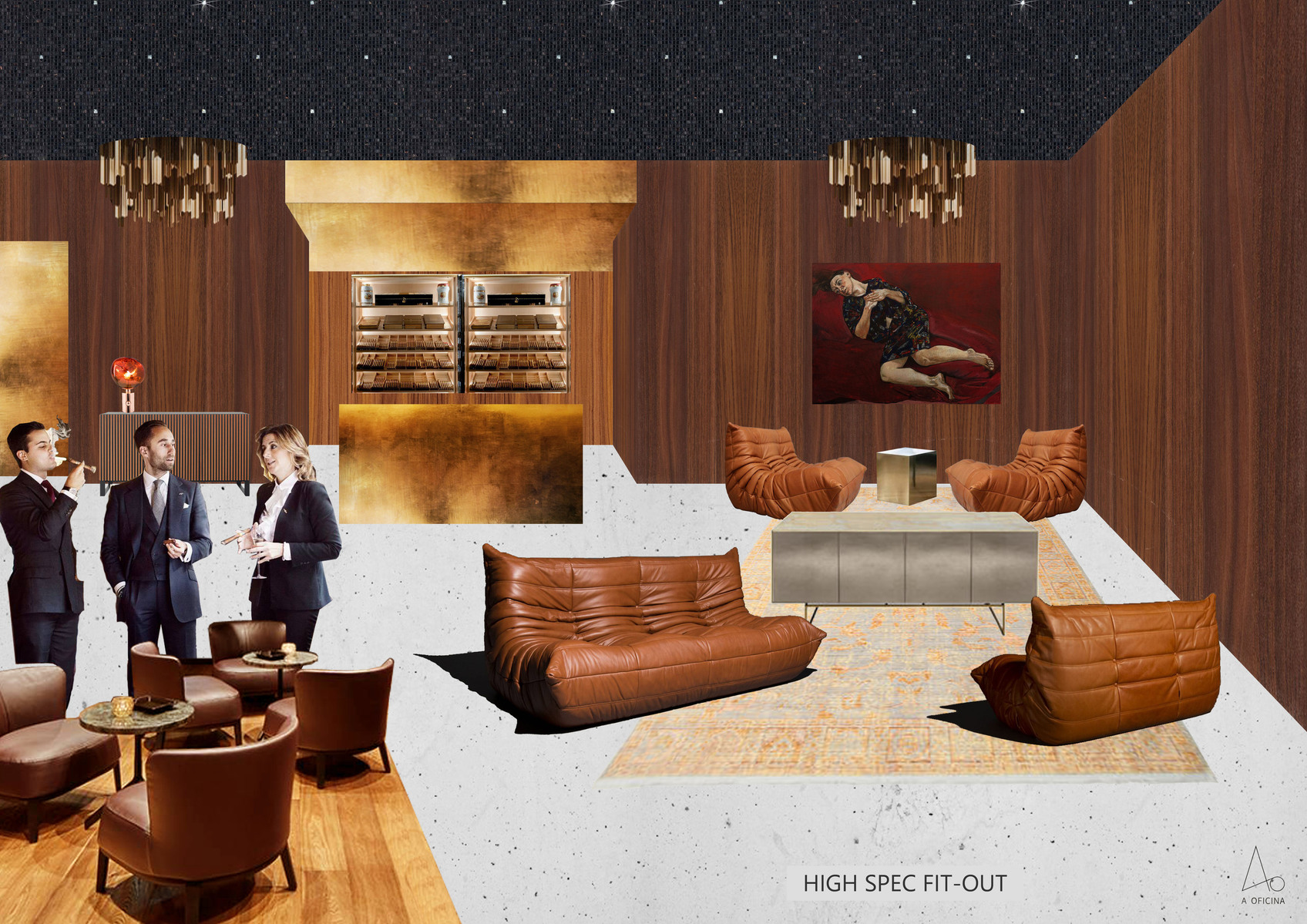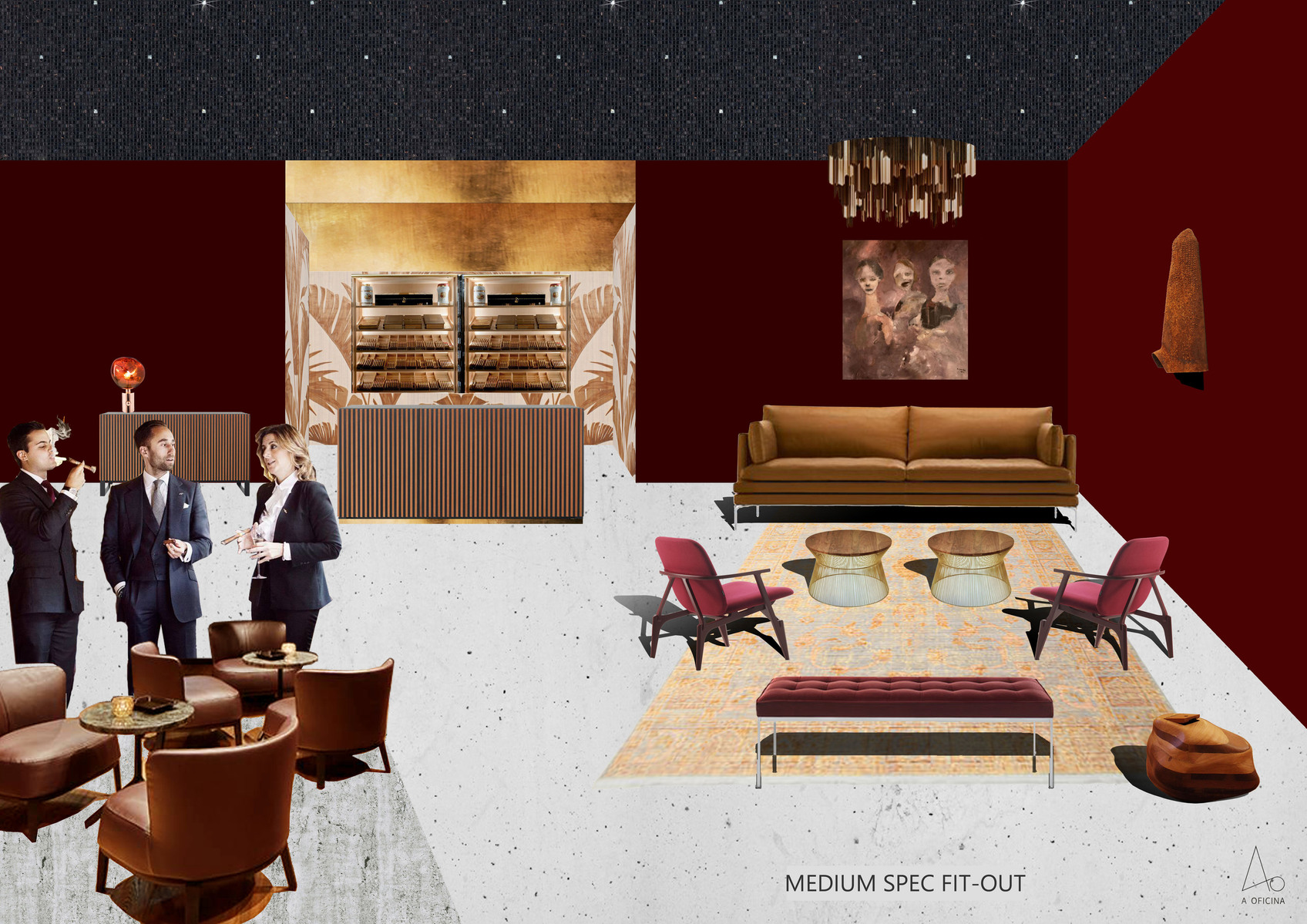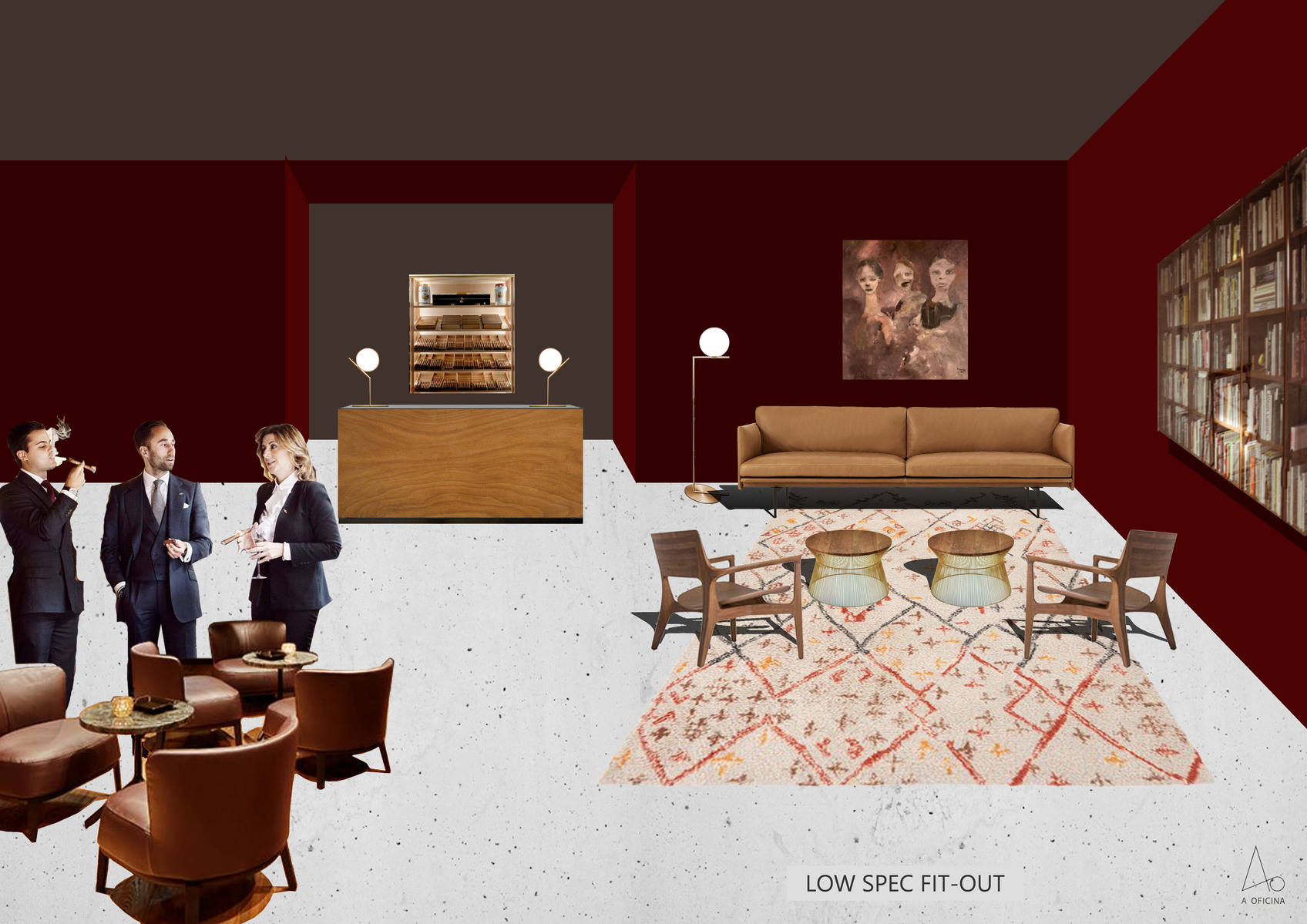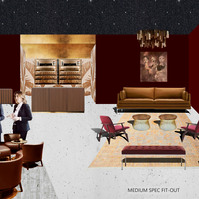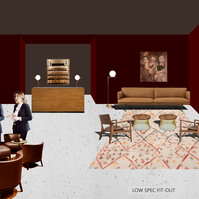 NÍVEL DE ACABAMENTOS
Regra geral, quanto maior for o número de peças desenhadas, embutidos e a customização de acabamentos de superfície, mais elevado será o nível de acabamentos.
Nível alto (high spec) compreende acabamentos especiais ou customizados para tectos, paredes e pavimentos, iluminação e componentes electrónicos especializados, peças desenhadas à medida ou mobiliário de autor, embutidos, entre outros. Deste ambiente altamente customizado, partimos para o nível médio (medium spec), em que a customização restringe-se a muito poucas áreas (tipicamente para espaços de escritórios/empresas, limita-se às áreas dos Clientes). Por fim, um ambiente com nível baixo (low spec) de acabamentos compreende essencialmente peças soltas e genéricas disponíveis no mercado, tais como cortinados e persianas, luminárias genéricas, mobiliário de fábrica e têxteis. Veja a série de 3 imagens acima, para comparar os níveis alto, médio e baixo aplicados ao mesmo conceito para um Fumadouro.
FINISHES SPECIFICATION LEVEL
As a rule of thumb, the more customization of furniture and surface treatments is required, and the higher the quality of materials, the higher the spec will be.
High spec presents custom or select ceiling, wall and floor finishes, specialist lighting and electronics, custom or designer furniture, and so on. From this highly customised environment, we move towards a medium spec where customization is limited to very few areas (typically, client interface areas for businesses/offices). Lastly, a low spec environment relies heavily on generic loose items, such as curtains and blinds and generic light fittings, off-the-shelf furniture and textiles. See the series of 3 images shown above, for a comparison between high, medium and low spec applied to the same conceptual Cigar Lounge.

FICHAS DE PROJECTOS SELECCIONADOS
SELECT PROJECT SHEETS